Our main strategy for 2023
During this year we are seeking to generate awareness about good harvesting practices that improve our quality coffee. For this reason, we decided to use the red wine color as a visual reminder of the appearance that the coffee beans should have when the coffee growers harvest them, so that the quality that represents us can be obtained.
In commemoration of the 15 years of partnership between SKN Caribecafé and Nespresso we had a face-to-face meeting with more than 800 coffee growers from the Department of Huila. 
During this meeting we had a forum with our CEO Philippe Seggers, our Commercial Manager Andrés Dicker, our Sustainability Director Esteban Salazar, Nespresso's operations representative Luis Cardona and the coffee growers of the Nespresso AAA Sustainable Quality program of the Huila Cluster.
We discussed harvesting methods and post-harvest practices that contribute to the improvement of coffee quality. Additionally, we exchanged ideas on those technological processes and projects that allow us to have a sustainable and profitable coffee supply chain.
"We are at an important moment in history; we are coming out of a strong climatic phenomenon known as "La Niña". In addition, we are still recovering from the pandemic and adapting to the new commercial challenges that are being generated. Therefore, it is important to face these challenges by working together to continue growing. " 
Philippe Segers


CEO de SKN Caribecafé
Our coffee quality has been one of the attributes that make us internationally recognized and we know that training can be key in helping coffee growers to maximize sustainable farming practices and increase coffee quality. Therefore, we keep on learning to understand more about how the use of technology could facilitate coffee production as well as evaluating new practices that increase the coffee quality in order to train our coffee growers with this information.
During the forum, we had the opportunity to present the results of the tests we have been carrying out and we trained the coffee growers in harvesting and fermentation practices, which are key farming practices for obtaining a quality profile.
"Fermentation and good post-harvest practices are the key factors to achieve the cup profile that represents us internationally"
Evelyn García


Quality Leader
For SKN Caribecafé it is crucial to continue impacting the coffee grower's life by providing knowledge that allows them to improve their lifestyle. For this reason, we opened a space to talk about the projects that are being carried out with our allies. These programs seek to foster women empowerment, climate change awareness, young entrepreneurship, and the creation of green spaces. 
"I am concerned that young people are moving away from the countryside to live the "American dream" and do not realize that in the countryside they can make it " 
Luis Carlos Torres
Coffee grower Nespresso AAA Sustainable Quality program of Huila Cluster.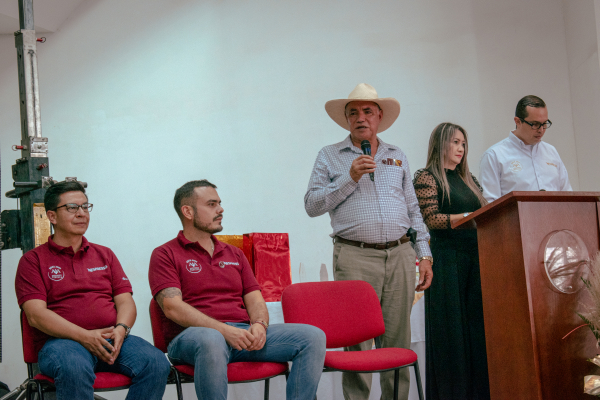 Esteban Salazar responded:
"Together with our partners, we are carrying out projects focused on motivating youth entrepreneurship and generational replacement in order to show the countryside not only as a place of production but also as an opportunity to grow".
We also had the opportunity to award those coffee growers who have strived for years to be part of SKN Caribecafé projects and have made a difference as leaders in different areas of their communities. Let's get to know them: 
Each coffee grower received an economic incentive in inputs such as post-harvest kits, quality kits, biological supplies and more.
15 years is a lot of time; therefore, it was very important to provide a space for coffee growers to tell us about the life experiences they have acquired during this time and, of course, what the challenges and opportunities for improvement in the coming years are.
During the forum we had the opportunity to listen to the testimony of coffee grower Luis Carlos Torres from Pitalito, who has been in the program for approximately 14 years.
Luis Carlos Torres is a coffee grower that has been characterized for being an innovative person, constantly seeking to implement the different SKN programs on his farm, to improve the quality of the coffee through more sustainable methods. For 20 years he has been part of different leadership groups in the area, with which he has contributed to the improvement of his community by implementing transformational infrastructure projects.
Mr. Luis Carlos has been working in the coffee sector for more than 38 years, since he was a child he fell in love with coffee and dreamed of having his own farm to plant and commercialize it. After years of hard work, he was able to achieve his objectives and now it is his two eldest sons who continue with this tradition by administering the farm and motivating his younger brothers in the process of learning to grow coffee. After a long and successful career in the world of coffee, Mr. Luis Carlos decided to retire from the business in order to enjoy life with his wife. 
Six of SKN Caribecafé's partners participated in the fair and through a stand they promoted and informed about the different projects they are carrying out to support coffee growers.